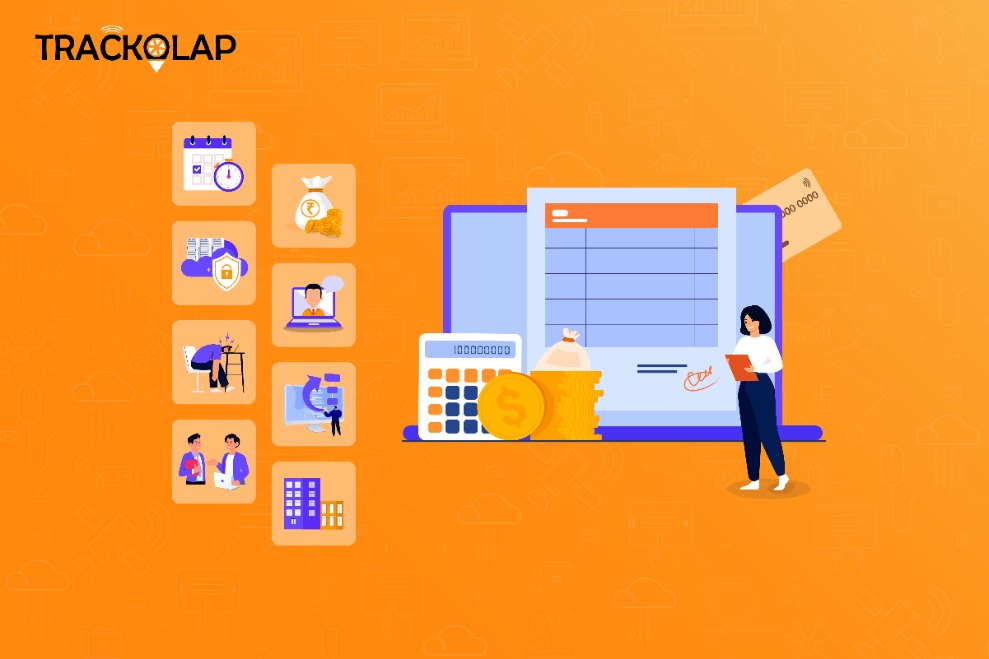 Top 8 Payroll Management Myths Debunked- TrackOlap
---
Effective payroll management is the backbone of every business system. It helps to keep a company out of legal troubles, retain employees and establish good connections with vendors.
Payroll might be an important business process, but there are numerous misconceptions and myths prevailing about it in the business community.
In fact, almost 54% of businesses are dealing with payroll management issues nowadays. This, in return, creates legal and employee management problems in the organization.
Thus, you should understand Payroll Management System properly if you don't want to lose good employees due to a messy payroll system or get an IT department notice for wrongful tax practices.
For this purpose, we are debunking 8 common payroll management myths. After reading this blog, you will know how to effectively manage your payroll system. So, let's get moving.


Let's Burst 8 Payroll Management Myths
If you often fail to pay salaries to employees, payment to vendors, and file income tax returns on time, this is happening because of a messy and unclear payment management structure.
Usually, every company has different payroll management issues. But based on TrackOlap teams experience, we have found these payroll management myths as the biggest reasons behind payroll problems:
Myth 1. You need excel timesheets to compensate employees
Excel timesheets are outdated, time-consuming, and error-prone. Adding individual employees' starting and closing time on excel sheets will take lots of time, and a manual data entry process can lead to errors. Additionally, calculating payslips based on excel sheets will take ages when the number of employees is large.
Therefore, businesses should ditch excel based timesheets and get Project Management Software . These programs will not only save time and reduce errors, but they also allow payroll managers to know:
How many leaves have a person taken in a month?
How long has an employee taken a lunch break?
Was an employee playing game during work hours?
How many hours does an individual work every day?
Importantly, all this data is shared in real-time, which helps payroll managers to generate payroll faster. Thus, it is high time to let go of paper or excel timesheets and adopt automatic timesheet software.
Myth 2. It's expensive to get payroll management software
This is a common payroll myth that our team has to clear almost every day. Many SMBs want to automate their payroll management system, but they think it is expensive and only for large companies.
Let's get one thing straight - payroll management software is not at all expensive. In fact, TrackOlap payroll management software merely costs ₹50/user/month. That means payroll software costs less than a meal.
So, no matter how small a business you are, automating payroll management systems will not put a scratch on your bank account.
Also Read:- What Is Asset Management? Why Your Business Needs Asset Management Software
Myth 3. HR data isn't secure on the software
Once again a silly myth. Security is one of the primary concerns for HR software. Most payroll software uses high-end data security technology to protect its users' personal information.
We also have a strict data security policy and structure that you can check out on our website to clarify your doubts. Further, only authorized persons can access payroll data on the software.
Compared to traditional payroll management solutions, the software provides better quality security features. The paper-based payroll sheets can be easily accessed by unauthorized persons, and anyone can temper with them. But there's no such problem with software-based payroll management.
Myth 4. Expert is required to use payroll software
Some technologies and software can be hard to use. But payroll technology isn't one of them. Most payroll management software is simple to use and update.
A person with basic computer knowledge can effortlessly use payroll management software. Thus, there's no need to hire technical staff to operate HR software. Your regular accounting and HR staff can easily use the software.
However, if your staff is not at all tech-savvy, there's nothing to worry about. Payroll software vendors can provide basic training to your employees to use and update the program.
At TrackOlap, we even provide a free demo to our clients. You can anytime contact our team if you are stuck somewhere or need help to maintain the software. We are always available to help our customers.
Myth 5. The software will make employees unproductive
Many people think that technology will make their staff unproductive and lazy. Now, that's a complete myth.
Software is a machine that needs human commands to operate. The payroll software will only provide the desired results if your staff insert the right information and data into it.
Thus, the software will not make your employees incompetent or unproductive. In fact, the software will save your employees time that they can use to better grow your business.
It is a great idea to automate repetitive payroll tasks so HR and finance departments can work on other important operations like interacting with employees, preparing better policies, planning budgets, and more.
Myth 6. HR software focus on specific operations only
When you are getting HR software, it is not just helping you with onboarding and exciting processes or preparing salaries. No, payroll software can help you with many other operations, such as:
Revise Salary Structure
ESI Computation
Labour Welfare Fund
Provident Fund Calculations
Professional Tax Compliance
Punch IN/OUT
Attendance Reports
Expense Reports
Process Payroll Every Month
Generate Payslips
Automate Reimbursements
Create Loan Types
Compare Tax Regimes
Declare Investment
View Overall Payroll Analytics
Claim Reimbursements
Phew! Payroll software can do so many things. That means getting HR software can automate several business operations in one go.
Myth 7. It will break human interaction with an HR department
Often employees hesitate to adopt automation in the organization. They worry that software will create a gap between the HR department and employees. But that's a myth.
In fact, the software will better streamline the communication in the organization and between different departments. Manual systems can create confusion and misunderstanding in the organization.
But with the software, one employee can get proper information about the work plan, and the HR person can easily monitor their work plan. An employee can also check leave status, overtime, performance reports, and other details on the software.
So, HR software will help to improve communication between employees and different departments by creating a transparent workflow system.
The software will also help to set accountability. When a task is assigned to an employee, it will set his or her responsibility to do the job. If a person fails to deliver the work on time, authorities can make them accountable for the job.
All in all, HR software will establish a two-way communication system in the organization that allows employees to better interact with authorities and vice versa.
Myth 8. Payroll software is only for large companies
Finally, small companies believe that payroll software isn't for them. They think that payroll software is only useful for large teams with over 100 employees.
But that's a huge myth. Payroll is a part of every business organization, irrespective of its size. All companies have to maintain proper payroll documents for taxation and employee retention purposes.
The payroll workload for small businesses is heavier because they have less manpower to help out. Therefore, payroll software is essential for them to reduce payroll workload without compromising quality.
Get Your Payroll Solution Today!
We hope after reading common payroll software myths, you are ready to automate your payroll system. However, if you still have some doubts, in that case, we would recommend getting in touch with our team once.
They will help you better understand payroll software and how it can grow your business. Just ping us anytime to get custom payroll software.


You May Also Like : How TrackOlap Can Save your Business Money in 2022
Frequently Asked Questions (FAQs)
What is HR payroll management?
Payroll management is the system that allows employers to manage employees' salaries, attendance, and taxation records. The basic salary includes allowance, loan EMIs, deductions, and other salary computation elements.
What is a payroll cycle?
The time in between each payday is called the payroll cycle. Every company has a different payroll cycle, such as weekly, bi-weekly, or month.
What is the role of HR payroll?
The main role of HR payroll is to manage the company's every pay period. The process involves gathering, calculating, and inputting payroll-related data. Generally, the payroll data includes time records, employment benefits, and taxes.
What is the main payroll process problem?
Some of the most common payroll problems are organizational inconsistency, incorrect tax withholding, over or undertime miscalculations, and many more.
How can companies avoid payroll errors?
Payroll errors are unavoidable, especially in the manual payroll system. However, if payroll managers follow the right methods, they can avoid common payroll errors, such as:
· Follow all the latest payroll management laws and regulations
Never miss deposit deadlines
Process wage garnishments properly
Categorize employees correctly
Use a robust payroll management software