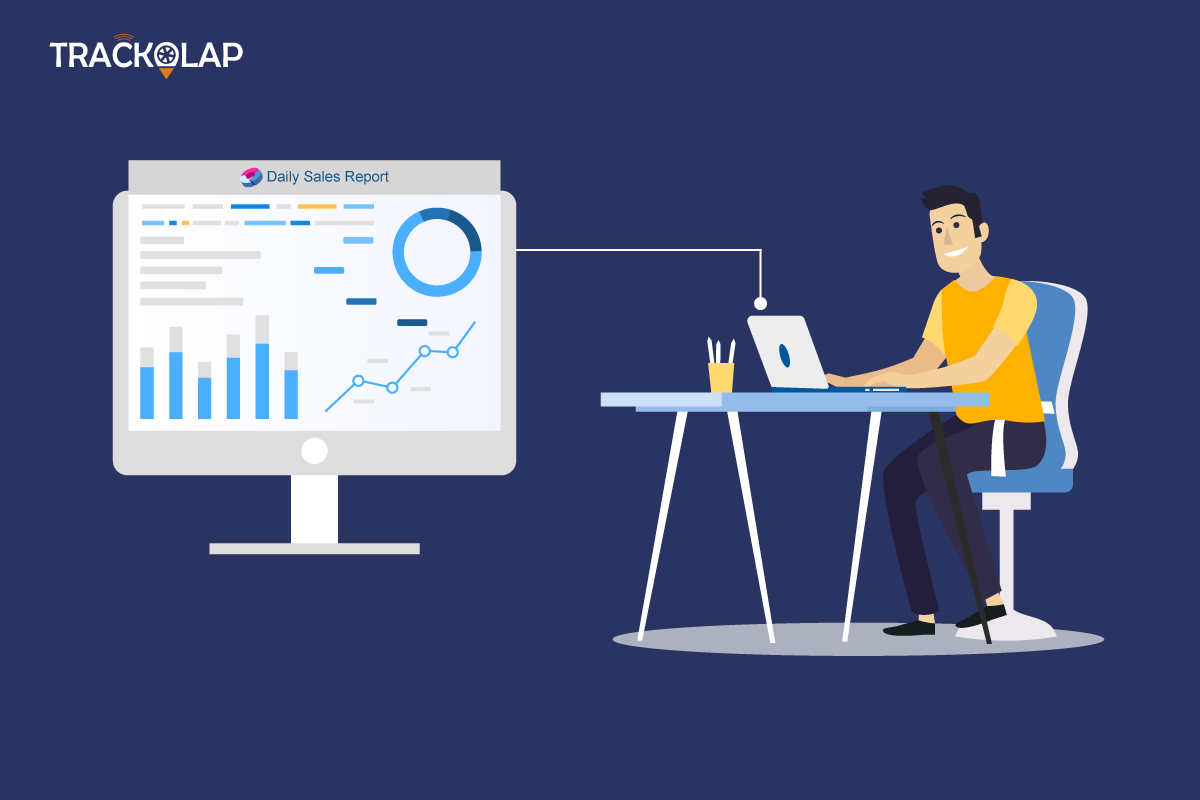 Automated Daily Sales Reports - DSR - TrackOlap
---
The report can be the word of six letters but its significance plays a vital role in any organization. In general term, you can make a better understanding of the report as a piece of information that takes place in an official document after the meticulous investigation done by the appointed person. Mostly every individual, been a part of any organization, must be familiar to the term of 'Sales Report' since they must have been asked to write a sales report at a certain point of time. A sale reporting has always been a task of causing stress. Manual sales reporting is the most viable technique that is still used by more than 65% of companies. However, evolution of the digital age is completely transforming the sales process in the most significant manner. Now people are more inclined towards automated technique for generating sales report as 'Automated Daily Sales Report' is a savior for every manager and doesn't let their hard work go in vain. You can understand this term as the act of delivering reports incorporating relevant sales information at particular intervals.

Moreover, this information can be collected after a triggered event so as users don't need to put extra effort and time to find the statistics by themselves. Automated daily sales report comprises varying types of reports that rely on the requirements of the end-user. With various reporting applications, managers are at ease as they often provide numerous techniques to trigger, schedule and burst sale reports out. Sales productivity Tracking can be improved by the Automated Daily Sales Report; moreover, DSR reminds users to attain certain tasks. It becomes very feasible for the users to dig the relevant information out if they are provided with useful data. And, it is very beneficial for those reports that comprise large datasets.

We can build a better understanding of 'Automated Daily sales Reports' with one fine example. Let's assume a scheduled sales report may be transmitted once a week like Saturday at 10:00 AM every week. When a new sales deal closes report might be given to a sales executive and that's how reports can be triggered. Additionally, reports may be burst out that is a form of scheduling used for deployments of the large report where the data can change from user to user. This type of reporting gives analytics administrator a helping hand since the administrator doesn't need to schedule multiple reports with separate data. With the help of bursting, administrators employ a single bursting key to provide users with the right information from the solitary report.

Although manual reporting was considered as the most viable technique used by every organization, automated reporting is prevailing around the world. There can't be smoke without fire, and without any benefit, not a single technique can survive in this digital era. Let's discuss the varying advantages of automated daily sales report in detail.

Elimination of repetitive administration & reporting flaws: Data entry task is prone to administration and reporting flaws as it is the most critical day-to-day function for companies across various industries. Every administration and reporting function heavily relies on data entry, simply implies that a nominal error can cause huge ramification to a particular company. Therefore, to skip such catastrophe, organizations must consider an automated technique for generating daily sales report as it shields these corporations from reoccurrence of reporting and administration errors. Automated daily sales reports are the most reliable and authentic one that mirrors the current situation in the most effective manner.

A big time saver: You can call these automated daily sales reports a big time saver as it gives more leisure time to focus on sales strategies and skips the shuffling. You don't need to put extra efforts to find the errors in every report as it can do it automatically. Managers can find out the real-time actionable answers with such workable reports. With such automated reports managers can make swift decisions without facing any hassle. Huge benefits can be earned by any organization after employing automated daily sales reports as it can tailor the information at each level of business.

Enhancement of sales information visibility: Although a sales team always focuses on their individual goals, managers are those workforces who enable the success of the sales team. Sales information visibility instills into the managers to understand their salespeople and customers. In addition to this, sales visibility enables the management to bridge the gap between management and employees. Automated daily sales reports give the managers a clear understanding of the root cause of problems. With the help of such reports managers can easily identify the loopholes in the organizations.

Empowering Managers: Automated reports make the managers able to consolidate the metrics of disparate IT management systems and tools so they can take the most explicit cost-saving decisions. Every weekly and monthly real-time automated reporting process allows the managers to move from being reactive to being pro-active. Through this ability, managers can give all answers throughout the whole period instead of giving at the end of it. Managers' swift decision making power helps the entire organization to gain strategic alignment, overall transparency, and efficiency in operations.

Boost management decision-making power: Increment in sales information visibility, time-saving efficiency and error-free administrative reporting boost the management's decision-making power. Automated daily sales report gives all the essential information to the management at a regular interval; thus, management is always aware of every whereabouts of its employees. They know what types of flaws and strengths employees, who are working in their organization, have. Such deep understanding about every employee helps the management while taking decisions for the welfare of the manpower.

Generally, companies find it so difficult to handle all employees' records due to perpetual challenges while managing a field force. Thus, corporate prefers to use apps for employee management as it is the most convenient way to organize management data. Such apps are very prominent for providing all location science and solutions to all types of organizations, whether it is a corporate, enterprises or educational institutions. Any modern business, that is in dire need to enhance its operations regarding employees, vehicles or facilities, can get the best location science and efficiency solution through such apps. These apps emerge as the best due to their ability to handle the daily challenges of a field-force. Global enterprises can rebuild their business to become the best fit for the digital age with the help of employee management apps such as TrackOlap and many more.

These beneficial apps bridge the gap between their offerings and the needs of the client. They have the sole motto to simplify all complex management problems by providing the best solutions with suitable applicability. Therefore, they are proficient enough to handle companies' operations in real-time and help them to attain desirable revenue and profit at optimized cost. It will be intrigued to know how such apps perform their functions in the most feasible manner. Here are some points that describe the work of employee management Software in a detailed manner.

* These apps give a suitable platform for the employees so that they can fill all essential details after every meeting or task.
* These apps accumulate all the data and pictures, provided by employees and managers, and store it adroitly.
* Employee management apps have the ability to capture the location of meeting systematically.
* Managers or admin can get the 'daily activity report' at a specified interval as these apps generate such reports proficiently.
* Additionally, these apps provide the facility to send important emails at scheduled time to those email ids which are already saved in their systems.

Every organization needs to perform the bulk of functions simultaneously. Most of the time, it becomes very hectic to perform such functions without any app. To solve such complex problems, organizations are ready to transform their manual sales reporting system into an automated technique. By providing real-time visibility and streamlining operations across the organization, these employee management apps lend a hand to take your business to the pinnacles of success. These apps are uncomplicated to set up, systemized administer, and user-friendly. They are completely scalable because it grows with you coherently. Additionally, they keep an eagle eye on poor performance with an aim to improve it. In the same way, TrackOlap is equipped with such aforementioned qualities; thus, you must give it a shot to simplify all sales and employee management problems.